November 1, 2016
Fellow Combatants:
I hope all is well at the front!  Let's take a moment and see where things stand in the Paths of Glory tournament.  We're a month into the event and we're on track to conclude Round 1 at the end of January 2017.   While we have 38 of the AREA Top Fifty participating in this event, some of those who are new to organized tournament play seem to be acquitting themselves in good fashion.  (More than one tourney veteran is going to be upset in the first round!)
The following information is intended to provide some perspective on the event while providing guidance on a few topics.
Administrivia and Admonitions
Please make sure you report match outcomes to your game moderator.  Early finishers, should they be obliging, will be matched up for additional play.  (These 'practice' matches do not count towards the tournament record but do provide the opportunity to play another 'organized' match.
If an error is observed and corrected on a particular turn, there is no obligation to go back and correct the mistake in prior turns.   Please consult your moderator if the circumstances regarding prior errors merit further scrutiny.
We are still performing matchups for late tournament entrants but they join with the understanding that they are still responsible for finishing their matches on time.  Diligent players should be able to complete a match in less than three months and with the holidays approaching we suspect we'll see some extra POG time for some of our participants.
If you haven't reached turn 4, you're facing a real possibility of not having enough time to finish.  At the end of Round 1 the GMs will not hesitate to award both players a loss if it's determined that their pace is not suitable for an organized competition and inflicting their laggardly ways on additional opponents will be detrimental to the event.  There will be no time extensions due to players playing sluggishly!
Statistics:
Participation:  We now have 103 grognards in Round 1.  (51 matches, 1 bye awarded.)  Definitely a record turnout.  And an administrative challenge.
Outcomes:  Four matches have been completed.  (2 CP, 2 AP wins).  It's worth mentioning that this is a double elimination event so a single loss will not end your participation in this event.
Game Pace:  People should be averaging a little more than a card a day.  The chart below shows how many games have reached a particular turn.   Half of the tournament matches are at turn five or later.  If you're not wrapping up turn three, you need to step up your pace!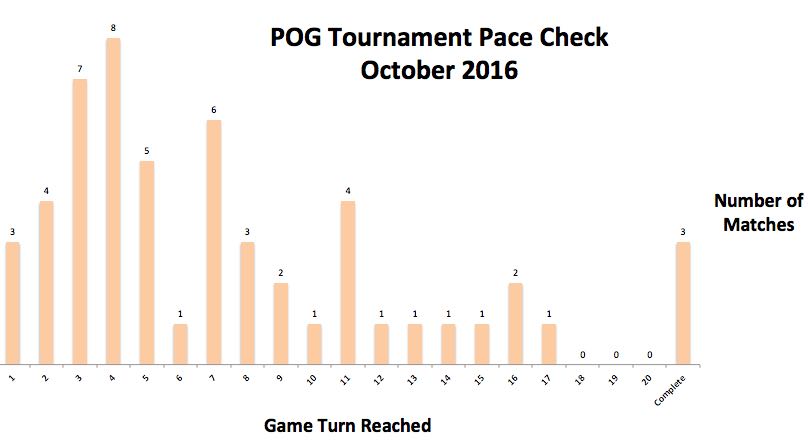 Miscellaneous GM Learnings:
Some folks just can't get enough POG.  The first four game finishers are already playing again.  Odds are that their extra play will make them that much tougher in Round 2.  (Yet another reason to not dawdle in your own match!)
The NE SR restrictions preclude a non-TU corps going to Bursa, Baliksir, Izmir, and Cana Kale in one round!  (You can't go into the NE map (Constantinople) and then back out to one of the European-map Turkish spaces.
October 2016 POG Puzzle:
There is a way to get GE armies into Italy before the Allies are at Total War.  (We're not talking about coming in through Turin nor are we saying they can normally operate once there.)  Something to mull over while gorging yourself on Halloween candy.
Be Well!
Tom Gregorio
Michael Dauer
Paul Hubbard